In Part 3 of Granny Fuck Club, Luna Azul, 67, and Mia Magnusson, 61, are having a serious makeout session on a couch, kissing passionately and feeling up each other's bodies. "We have to try something different today," Luna says. "We have to find ourselves a nice, hard cock." "That sounds like a great idea," Mia says, "but where are we going to find one?" They look outside and see a young guy standing on the sidewalk, talking on his cell phone. "Perfect," Luna says. They go over to the window. Tall, long-legged Mia, who debuted at 60PlusMILFs.com this past September and is the newbie in the Granny Fuck Club, is wearing short, sexy lingerie. Luna, a stacked brunette who has fucked a lot of our studs, is wearing red panties and a bra that her tits are pouring out of. "Oh, I know that one. He's a friend of my granddaughter's," Luna says. "He would be perfect." "He would be very perfect," Mia says. The dude, a 25-year-old named Oliver, knocks on the door, and Mia and Luna answer. The guy, seeing two sexy GILFs wearing next to nothing, is a little nervous. He tells them he's looking for Luna's granddaughter. "Aren't you Oliver?" Luna says. "She's not here right now, but why don't you come in and wait for her?" He comes inside. Luna and Mia sit on either side of him. And away they go! Oliver is nervous, but these two experienced women know how to make him relax. They suck his cock and balls, one on the shaft, the other on the sack, then take turns getting fucked. While one lady is getting fucked, she's eating and fingering the other's pussy. Finally, Oliver can't hold back any longer and blows his load all over their old, wrinkled faces. Luna, who's a swinger, is not shy about going after what she wants. We asked her what she does when she sees a guy she likes, and she said, "I walk over to him and ask if we've ever met before." Either way, that always gets things going. As for Mia, who lives in Las Vegas, she's a divorcee, mother and grandmother from Australia who has been a professional dancer all her life. She'd never done anything like this before she came to our studio. She hasn't watched her first 60PlusMILFs.com fuck scene--"I don't watch myself," she said--but said doing that scene has changed her. "I am more confident, enthusiastic and sexy," she said. More sexy? We didn't think that was possible.
More 60+ Scenes »
Featuring:
Cammille Austin
In the second fuck scene from the new movie Granny Fuck Club, two young tourists see Cammille Austin, 60, wearing a short, tight, sexy dress, walking down the street in Miami, Florida. They spring into action and get her attention; she's obviously already gotten theirs. Cammille leads them back to where she's staying and invites them in to take a tour of her hot body, big tits with pierced nipples and shaved, pierced pussy. Then she invites them into her mouth and pussy before saying the magic words: "DP me!" Cammille gets double-stuffed in several positions before getting glazed with cum. It drips off her chin and down to her rack. "Having both holes filled is wonderful," Cammille said in the Granny Fuck Club interview. She's a wife, mother and grandmother who comes across as shy when you first meet her but definitely has a wild side, which she loves showing off at 60PlusMILFs.com (she was already a big star at 50PlusMILFs.com). Here are some excerpts from our interview with Mrs. Austin. 60Plus MILFs: It's amazing. You don't look a day older than you looked when we saw you for the first time four years ago. Cammille: Thank you! I think all the sex I have keeps me looking young. It keeps me youthful. At least that's how I feel. 60Plus MILFs: How often do you have sex? Cammille: Three or four times a week. Sometimes more. 60Plus MILFs: What sexually satisfies you best? Cammille: Deep, hard fucking doggy-style. I like to feel it all the way up my pussy. I like that stretched-out feeling from a big cock. 60Plus MILFs: Do you like rough sex or gentle, romantic sex? Cammille: It varies. It depends on my mood. Sometimes I really like it slow and sensual to where I can really connect with the person. Other times, I like it fast, hard and rough. I love having my ass slapped and my nipples pinched. I don't want it too hard where you leave marks, but I love having my ass slapped. I'm finding out that I'm up for anything. 60Plus MILFs: We've yet to find anything you're not up for, and we've known you for more than four years. With all the fucking you do, do you ever masturbate? Cammille: Yes, all the time. My favorite is in the shower, all soaped up with my toys. I'll bring a few toys in with me, then I'll get all nice and wet and start rubbing my pussy, then I'll either squat over one of my toys or just lean against the wall and fuck my pussy with one, and meanwhile, the hot water is pulsating against my clit. My husband says we must have the highest water bills in town!
More 60+ Scenes »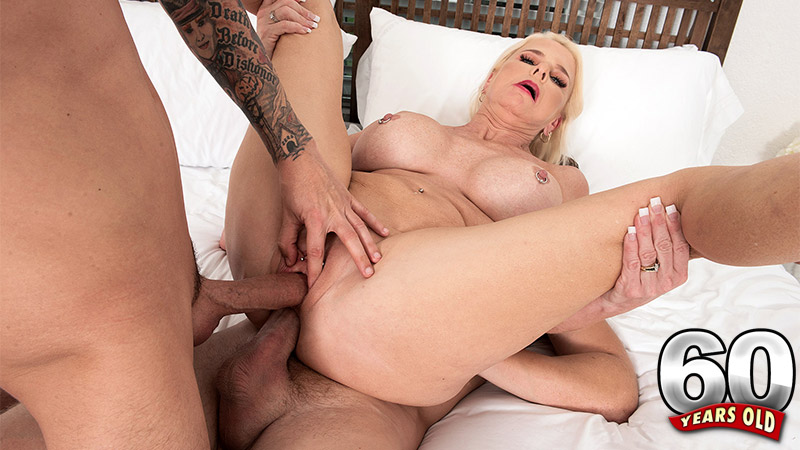 Six gorgeous, sexy, 60Plus GILFs get together to talk about their super-horny lifestyles, sexual awakenings, wildest adventures and lots more. They're wearing revealing lingerie, and they're totally open about their experiences. In the front row, sitting in front of the couch: Chery Leigh in blue lingerie, dark-haired Rita Daniels and tall, long-legged Mia Magnusson in pink. On the couch: Sally D'Angelo in blue, Cammille Austin in orange and Luna Azul in red. They're all over-60. They're all moms and grannies. Some of them are married, some of them divorced. You're going to find out things about these women you've never known. Among the topics: - Have they always been this horny? - The first cock they fucked. - What would a younger version of themselves think of them today? - The youngest guys they've been with and what happened. - DP and interracial. - Fucking their kids' friends and their sons-in-law. - The biggest cocks they've ever fucked. - The things they haven't done that they want to do. - Being watched while having sex. - The wildest things they've ever done sexually. Enjoy this unique around-the-couch discussion. It's the perfect warmup for the red-hot Granny Fuck Club action to come.
More 60+ Scenes »