"I want people to enjoy what they see, and I hope they enjoy me," 60-year-old divorcee and mom Cashmere said. "There is a little part of me that's nervous about this being out there for anyone to see, but it's exciting, too, not knowing who's going to see me." We're all going to see you, Cashmere! We're going to see you sucking and fucking Jack's big, young, black cock, and then we're going to see him glazing your pretty face with his cum. We're going to enjoy it, and one of the reasons we're going to enjoy it is that you obviously enjoy it so much. "I do enjoy sex," Cashmere said. "I was married to the same man for 23 years, then we got divorced and everything changed. The first time another man kissed me, I was shocked because he brought out this passion in me that I didn't know was there anymore, and when you're older, you have a little fear. I just felt this passion inside of me and I wanted to take it further, so I started having sex with different people, and I really enjoyed it. I've learned a lot. I've done more things now sexually than I had in the previous 25 years. It's a liberating experience. It's an empowering experience." Cashmere first came to us when she was 58 years old. She was born in Ohio and lives in Arizona. She's petite and measures a sexy 36-28-36 with nice, firm tits. She used to be an interior designer. She enjoys old movies, her dream car is a Tesla and she likes to watch NBA games (favorite team: Cleveland Cavaliers). We asked her if the people she knows would be surprised to see her here, and she said, "Yes! I only want a select few to know about this. My family would not understand." Works for us, Cashmere. It'll be our sexy little secret.
More 60+ Scenes »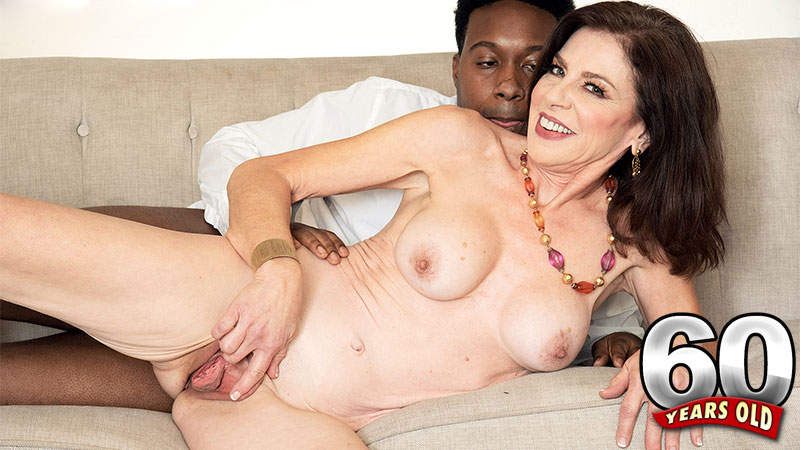 "I'd never experienced an orgasm until I met my third husband," 60-year-old stunner Chery Leigh said. "In 20 years, my ex-husband might have gone down on me twice. Then I met my current husband, and the first time we had sex, he went down on me right away. I was trying to push him away because I didn't know what to expect, and all of a sudden, he had me having an orgasm within minutes." There's been no turning back for Chery, who fucked on-camera at 50PlusMILFs.com for the first time when she was 55 years old and returned to us at the ripe, prime age of 60 to enjoy her first DP at 60PlusMILFs.com and in the movie Granny Fuck Club. Chery is a swinger. When she had sex with the other members of the Granny Fuck Club, it wasn't her first time with a woman. Or women. She's had sex with men she'd just met. She's been at the center of a gang bang with seven men. "It's like somebody turned on the faucet and never turned it off!" she said. If you had told Chery 10 years ago that one day, she'd be at an adult website like 60PlusMILFs.com, dressed all sexy and teaching guys how to make love to an older woman--as she does in the video version of this scene--she would've said you were crazy. Back then, Chery had no idea how a man should make love to an older woman. She does now. Back in 2013, we asked Chery if the people who knew her would be surprised to see her here, and she said, "Those who are not aware of me being a swinger would be extremely surprised." And those who knew her in 2005 would've been extremely surprised to find out that she's now a swinger. "I take good care of myself," she said. "I go to the gym every day." She's in great fuckin' shape...great shape for fucking. Enjoy. Learn something, too.
More 60+ Scenes »
Featuring:
Cammille Austin
In this lovely scene, lovely and sexy mom and granny Cammille Austin sucks and fucks the guy who's about to be her step-son. Yes, Bambino's lucky dad is going to marry Cammille, which makes Bambino very lucky, too, because judging by this scene, he's going to have regular fuck access to one of the hottest GILFs on the planet, a woman with big, pierced tits and a pierced pussy. A woman who loves big, black cocks but is perfectly happy with Bambino's big, not-black cock. Cammille sucks and fucks that BNBC. She takes it up her ass. She does all of this after Bambino walked in on her while she was taking a shower. Most women would be appalled if that happened, especially with their step-son, but not Cammille. She took advantage of the situation. In the end, Bambino shoots his load onto his future step-mom's well-fucked asshole. By the way, Bambino is 30, half Cammille's age. She's 60, and in real life, she's married to a very generous man who encouraged her to have a BBC gang bang on their wedding night. Hubby got treated to very sloppy seconds and was very happy about it. 60Plus MILFs: What sexually satisfies you best? Cammille: Deep, hard fucking doggy-style. I like to feel it all the way up my pussy. I like that stretched-out feeling from a big cock. 60Plus MILFs: Do you like rough sex or gentle, romantic sex? Cammille: It varies. It depends on my mood. Sometimes I really like it slow and sensual to where I can really connect with the person. Other times, I like it fast, hard and rough. I love having my ass slapped and my nipples pinched. I don't want it too hard where you leave marks, but I love having my ass slapped. I'm finding out that I'm up for anything. Cammille is a nurse. Her husband is a surgeon. We asked her why she decided to do porn, and she said, "It was my husband's idea. We started experimenting in the bedroom with pictures, and then we moved on to videos. We would call up some of his friends, and he would tape us while we had sex. We really enjoyed it and just kept on doing it."
More 60+ Scenes »