Join Now
"I used to lie about my age to make myself look older and then I lied about my age to make myself look younger and now I'm actually telling the truth about my age," Mia Magnusson said. For the record, she's 61. She's a mother and grandmother. She's tall and slender with long, shapely legs. Today, she's wearing a sexy, sheer nightgown that allows us to see those gams. She catches us watching her through the doorway. "I've been waiting for you, you sexy man," she says as she touches herself and lets down her straps, revealing her tits. "Come closer." "Why are you so shy?" she asks. "What are you worried about?" Shy? Us? No way! Worried? What, we worry? Before long, Mia's totally naked and playing with herself, then she takes out her toy and invites us to jack off while she gets herself off. She doesn't have to ask twice. "Women today are able to maintain a younger lifestyle for a lot longer, and suddenly, younger guys like older women," Mia said. "That works for me. I'm sure there's always been people like that, but I think it's a new phenomenon." Not really. Here at 60PlusMILFs.com, we've had our eyes on older, sexy women for...forever! Mia was born in Australia and lives in Las Vegas. She's divorced. She used to manage rock bands in New York City. She also danced at Pandora's Box in San Francisco. She's one of the stars of the movie Granny Fuck Club, the first all-granny XXX feature film. Hobbies: "Painting, fashion design, singing and swimming." Sports: "I used to play basketball and net ball. I enjoy tennis and swimming. I never watch sports. I prefer to play!"
More 60+ Scenes »
"I'm a grandmother and I'm always wet," said Blair Angeles, a 67-year-old divorcee, mother of two and granny of two. Here, Blair gets wet from spying on her neighbor through a telescope, so she takes care of herself with her fingers. 60PlusMILFS: Where are you from? Blair: Outside Philadelphia. I was born in California. My parents were both from Philadelphia and we traveled all over the world and all over the country. I've lived in eight or nine states in America. And I lived in Japan for a little while and Italy and France, and I've traveled as far-reaching as Africa. I was married to a professional athlete for over 20 years and we went to tournaments all around the world. It was great fun. 60PlusMILFS: Have you had any kinky encounters in any of the countries you've traveled to? Blair: In those countries, no, because most of the time I was married, but in my city where I live, yes. I was out to dinner with an amazing young man. He was younger than I was. And I asked to be excused to go to the ladies room, and unbeknownst to me, he followed me to the ladies room, and he was waiting outside the door, and he burst in the door and we had sex on the floor. That was bizarre! It was a really nice restaurant, too. 60PlusMILFS: And as you know, younger men like older women. Blair: They do, and it's an interesting scenario because they look at us as someone who's seasoned and knows what we want, and it's unfortunate that women don't speak their mind sexually or any other way because it really makes the experience much more complete.
More 60+ Scenes »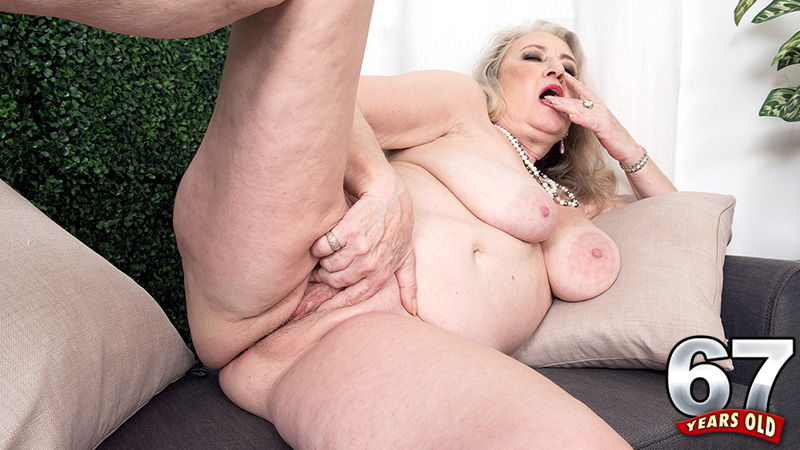 Featuring:
Lisa Marie Heart
When 60-year-old Lisa Marie Heart answers the door and steps outside at the start of this scene, she's totally, 100% naked. Not a stitch of clothing other than her heels. Her big tits and bare pussy are on display. "Come on in," she says. "I'll show you around." She shows us around her backyard and her garden, but what she really wants to show you is her body: those big, fake tits that she can't keep her hands off of; her sweet, firm ass. She waters her garden and turns the hose on herself, getting her hot body all wet. Then she takes us inside to her kitchen, where she keeps one of her favorite toys. She bends over and rubs it against her clit, then she lies back on her couch and continues to get off, bringing herself to a body-quaking orgasm. Lisa Marie is from Phoenix, Arizona. She's a mother and a grandmother. She used to be a topless dancer. 60Plus MILFs: What got you into dancing? Lisa Marie: The money. The fun. I really like dancing and teasing men. I went to apply as a waitress. 60Plus MILFs: How old were you? Lisa Marie: I was in my 30s. I started as a waitress and I wasn't making enough money, and the girls on-stage looked like they were having lots more fun, so I learned how to dance and became a dancer. I danced for about 10-15 years. Then things started getting really slow, and I realized that all those hot, sexy men I was teasing? I could see them after I got off work. I'd get so turned on at work, so it was more fun to see them outside of work and enjoy every part of them. No bouncers. And I really like sex, so it was perfect. 60Plus MILFs: So when you were dancing and saw a guy looking up at you, really enjoying himself, what would you do? Lisa Marie: I'd get down on my knees and crawl over to him real slow and give him my seductive eyes. If my top wasn't off already, I'd take it off. Then I'd tease him and show him my ass and sit on his lap and slowly crawl back on-stage. After I'd do that, they'd always want a lap dance. 60Plus MILFs: Did guys cum from your lap dances? Lisa Marie: [Laughs] Oh, yeah. I wanted to change my name to The Cuminator, but my manager wouldn't let me. "No, you can't be called The Cuminator." The guys knew I'd make them cum. 60Plus MILFs: Tell us one little trick. Lisa Marie: I always carried lube, and I'd stick my hand down their pants and get them really hard, and when they'd get turned-on, I'd get turned-on and think, "Oh, if I could only take them home." They'd usually cum in one dance.
More 60+ Scenes »