Join Now
"I'm at home in my kitchen today," 61-year-old MILF and GILF Mia Magnusson says at the start of this video. "Just doing some dishes. Somebody bought me a new kitchen appliance. Can you guess what it is? Do you think it's a dishwasher? No. Is it a blender? No, I already have a blender. Do you think it's a food processor? Well, it's a processor but not necessarily for food. Let me show you what it is. You're gonna love it." She shows something to us. It's a weird contraption. Kinda looks like a remote control or something like that. "It has its own little controller," she says, "and you can put it as fast as you want or you can slow it down. Do you still not have any idea what it is? Well, here's the deal. It's not really a kitchen appliance. Oh, sure, you could use it in a kitchen but it would be better used in a bedroom. It's a fuck machine with a big, fat dildo attached! "This is my boyfriend for when I have no boyfriend," she says, then she takes a suck of the dildo. Then she takes off her clothes, lies back and has it fuck her pussy while she diddles her clit. No food will be made today in Mia's kitchen. But well-fucked granny pussy is on the menu!
More 60+ Scenes »
Featuring:
Anneke Nordstrum
Divorcee. Entertainer. Sixty-two-year-old nymph who's fucking more and more as she gets older. That's Anneke Nordstrum, one of the hottest 60Plus MILFs ever. "I like it in my mouth, my pussy and especially my ass," Anneke said. "A lot of men are surprised that a woman my age is into anal sex, but why not? If it's enjoyable for both of us, anything goes!" Anneke is a special woman. Today, she takes a 28-year-old's young cock up her ass like she's been doing it all her life...which she has, kind of. "I got into anal when I was in my early 30s and realized I could cum just as hard from anal sex as I do from vaginal sex," she said. "I'll never get tired of anal. Never." Anneke, who is of Swedish heritage, was born in upstate New York and lives in Central Florida. "I get 'Great tits' all the time," she said, "but that's not the way to get into my pants. Get me interested in you. Take your time. I promise you it'll be worth it. Besides, we have all night."
More 60+ Scenes »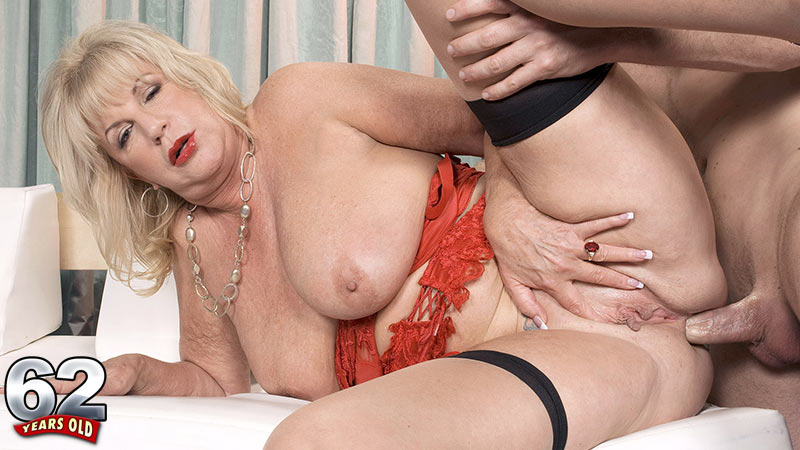 Today, 60-year-old divorcee and mom Cashmere strips out of her bathing suit and gets naked in her backyard. Then she goes inside so she can have some private time with you. She deep-fingers her meaty pussy while talking dirty and makes herself squirt. "I want people to enjoy what they see, and I hope they enjoy me," Cashmere said. "There is a little part of me that's nervous about this being out there for anyone to see, but it's exciting, too, not knowing who's going to see me." Cashmere was born in Ohio and lives in Arizona. She's petite and measures a sexy 36-38-36 with nice, firm tits. She used to be an interior designer. 60Plus MILFs: What made you want to try modeling? Cashmere: It was suggested to me by a friend, Leah L'Amour, and after some research and soul-searching, I decided to go for it and open myself up to a new experience. 60Plus MILFs: Even before this, you considered yourself sexual? Cashmere: Yes. I've always been very sexual. I've been that way ever since I can remember. I don't remember ever not masturbating. 60Plus MILFs: What's your technique? Cashmere: It depends on what I'm in the mood for. I like penetration and rubbing my clit. For me, clitoral masturbation is quicker to get to the end result, but sometimes I need both. I like it, and I've learned to make myself squirt. 60Plus MILFs: How do you do that? Cashmere: Well, I had a gentleman friend who made me squirt for the first time not too long ago, and I figured out what he was doing and where that spot was, so now I have a toy that goes up there, and it's perfect. It's really hot! Wow!
More 60+ Scenes »