Featuring:
Christina Starr
So you're lying in bed on a lazy day, enjoying your favorite website (that would be 60PlusMILFs.com), watching big-titted granny Sally D'Angelo fucking two guys. Your cock is out, as it should be, and you're doing what just about any man would be doing in this situation: jacking off. After all, you think you're alone. But then you realize you're not alone: Another sexy GILF-not Sally, of course, but your best friend's grandmother--of all people--is watching you. And she's not appalled by what you're doing. She's interested. Very intrigued. And since your cock is already hard and out...well, a horny woman like Christina is of the opinion that a young, hard cock is a terrible thing to waste. So she doesn't waste it, and before you know it, you've put down your smartphone and are enjoying the real thing. A hot granny is sucking and fucking your cock. You blast your load all over her face, and she rubs it in. "I'd better get out of here before your grandson comes back. He can't see us like this," you say after you've emptied your balls. "Oh, baby, any time," she says. Don't you wish all grannies were like this? At 60PlusMILFs.com, they are! For the record, Christina is 71 years old. Her grandson's friend is only 25. Also for the record, Christina loves young cock. And young cock loves Christina. What satisfies Christina best: "Penetration. Just getting fucked." Hey, that's easy enough. "My husband has read your magazines for years," Christina said. "He thought I would be perfect." He was spot-on.
More 60+ Scenes »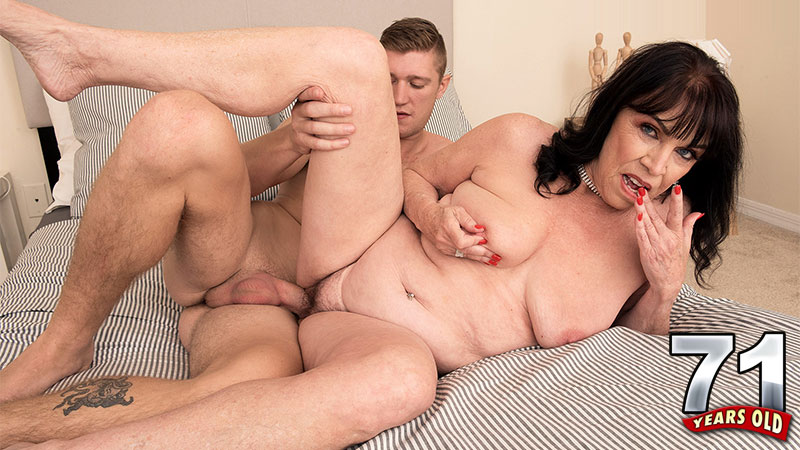 Featuring:
Christina Starr
When this scene opens, 71-year-old Christina Starr is wearing short shorts and a tight top. "I'm having such crazy fantasies," she tells us. "Thinking about younger men. I need a younger man. I'm 71, but there are a lot of younger guys who are totally into older women, so I think it's possible. I need to find that man. I need to find a stud. Someone really hot and huge. The bigger the better. He'd have no idea the woman he'd be having." He would if he saw this video. Christina takes off her top and tells us what she would want him to do with her. Then she takes off her panties (giving them a little sniff), lies back and spreads her hairy pussy, showing us how pink a 70something can still be. Christina is married. She was born in New Orleans and lives in Dallas. She's a mother and a grandmother. "My kids and grandkids are amazing," she said. "Just ask me." Well, we would, but in all honesty, we're more interested in other things about Christina. For example, her wildest swinging experience: "At a clothing-optional resort," she said. "Sitting by the tub, and a guy comes over and fingers me. I squirt and two more line up. And at a swingers resort in Orlando, I fucked three guys back-to-back." Wildest sexual encounter: "I walked into a bar and a young guy passed by me and asked if I wanted to get out of there. I turned and left with him." Masturbation: "I pleasure myself several times a week. If I go too long, I dream and cum in my sleep, which is also very nice." Sweet dreams!
More 60+ Scenes »
Featuring:
Caroline Hamsel
When this scene opens, 62-year-old Caroline Hamsel is standing on a street in a sleazy part of town. It's broad daylight, and she's wearing a fishnet dress, stockings, a leather jacket and thigh-high boots with heels. She's smoking a cigarette. She looks like a hooker. Two guys approach her. She unzips her jacket to show them her tits, which are poking through her fishnets. This woman is not shy. "Would you like to come with me?" she asks. "Yeah," they say simultaneously. She shows them the way, and they take her arms, gentlemen that they are. They go back to her hooker flat. "I've never had sex with such young guys before," she tells them as she feels their cocks through their pants. One of the guys is 26. The other is 29. She goes back and forth, sucking one cock and then the other, spitting on them, getting them all hard and wet for her pay-for-play pussy. She bends over so one can fuck her from behind while she sucks the other guy's cock. And then it's DP time: one in her pussy and one in her ass at the same time. Not a lot of hookers will do DP, but Caroline isn't like most hookers. She's special. She's a 62-year-old hooker who's doing this for fun, not for money. Notice how no money is exchanged during this video. Fact No. 1: This video is an example of art imitating life. Fact No. 2: Caroline is a wife, mother and grandmother. Obviously, her husband is very sharing. Fact No. 3: "My family and most of my friends don't know what I do," Caroline said. Fact No. 4: Caroline is one of the horniest, sexiest GILFs we've ever had. Fact No. 5: If you can get to the end of this video without busting a nut, you're a better man than we are.
More 60+ Scenes »